I was thrilled when Friday afternoon my local delivery truck stopped in front of my house and dropped off a package containing Downtown chic: Designing Your Dream Home From Wreck to Ravishing. Sixx Design is a husband and wife design team, and you can't ignore their six beautiful children who inspired the name of the company-and they just had their seventh child! Wow! Their website is awesome, too. You have to stop by it by clicking here. 
Their story began over ten years ago when they bought a wreck of a home in the Chelsea neighborhood of Manhattan, which in those days didn't have a good name. As they launched into turning their town house into something chic, they also happen to realize that they had talent for design. 
This book is not only a wonderful creative journal of the first home that they rehabbed into a chic oasis in the city, but this book is also a insider's look at how they launched into the business of design. Something that I loved to read about! I totally adore New York Style, too!! Sixx design is so inspiring!
This book couldn't have come at a better time as my husband and I are in the process of deciding if we should live in a urban metro or take the adventuresome road of flipping houses. This book is choked full of helpful tips on how to find the right wreck to flip to how to hire a contractor. This is a picture of their first home in Chelsea. Color was one of the first ways that made an impact on this property.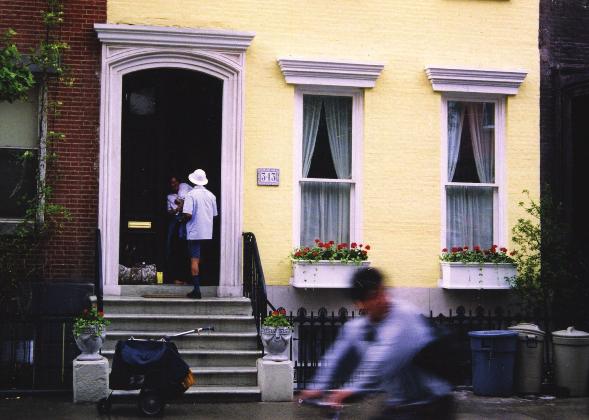 What hit me first about this book was the art that was incorporated into every living space!  They had art of every type, form, and price range in their living space. This book oozes creativity and showcases how art can inspire creative living and thinking for the entire family.
Can I keep mentioning all the things I loved about this book? Let's see..I also loved that these spaces feel so real. I get a sense of love, family, and inspiration in every page in the book. You can tell that design for all members of the family is just as important as design for adults. 
On page 86 of the Downtown Chic book, there is this beautiful photograph of children playing on a trampoline in the backyard of their house. What makes this photograph even more amazing is that Robert and Cortney Novogratz took the time to sink the trampoline into the ground! Nothing looks worse than the hideous look of a trampoline, not to mention the fear of kids falling. It's the first time I've ever seen anything like it. Just brilliant! Grab a copy of the book to check it out for yourself!
There are tons of tips on how to save money and how to spend it wisely. I think this book would make a great holiday gift! Why not give the gift of good design!! Here are a few more pictures, all by Sixx design, to get you really thirsty for more! This book is a must for people starting out in new apartments or houses, for people single, married, and everything in between! Check out a great interview with Robert and Cortney here.
Thanks to Sixx Design for sending me a copy of the book for review & I can't wait for their Bravo reality series to hit the airwaves. Say what? Ah..yeah! Bravo has announced that Sixx Design is in effect. I can't wait, but read more below:
DESIGN SIXX (working title)

Husband and wife design team Cortney and Robert Novogratz have made it their business to seek out abandoned buildings across Manhattan. Their company, Sixx Design, has established an international reputation by taking those buildings and transforming them into multi-million dollar living spaces. But the Novogratz's are anything but your typical house-flippers. In addition to living in each of the homes they flip, the couple brings along their six children all under the age of 11 and Cortney is pregnant with a seventh child on the way. Life is chaotic for the family, but from chaos comes clarity with Cortney and Robert and their design team. "Design Sixx" (wt) is produced by Left/Right for Bravo. Ken Druckerman and Banks Tarver serve as executive producers. 
Sixx Design is so Downtown Chic!
UPDATE: I've just learned that their Bravo TV will be called 9 X Design and it should be hitting the airwaves by early 2010! My fingers are crossed!!